Deck Builders Aloha, Oregon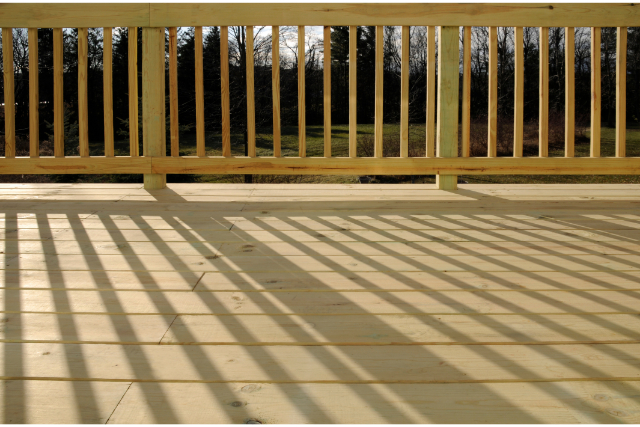 At Expert Deck Finishing, we take pride in being one of the leading deck builders in Aloha, Oregon. With years of experience and expertise under our belt, we specialize in constructing and installing outdoor decks that are both functional and aesthetically pleasing. Our team works closely with clients to ensure that their needs and preferences are met while staying within their budget.
From site preparation to finishing touches, our deck building process follows strict guidelines for local building codes and regulations. We believe that a structurally sound and stable deck is not only visually appealing but also safe for use.
Our services don't just end at the completion of a project; we also offer remodeling, refinishing, maintenance, and repair services for existing decks to ensure they continue looking beautiful for years to come.
If you're looking for a reliable partner who can help enhance the aesthetics and functionality of your residential or commercial property in Aloha, Oregon, look no further than Expert Deck Finishing! Contact us today for a free estimate and consultation.
Our Services
Our licensed and insured experts offer a range of services to meet all your deck-related needs. We specialize in deck construction, ensuring that every project is designed and built to the highest standards of quality and safety.
We also offer expert deck repair services, from minor fixes to major structural repairs, as well as refinishing and remodeling services to keep your deck looking its best. Trust us for all your deck needs and let us help you create the outdoor space of your dreams.
Deck Construction
You can trust us to construct a steady and visually appealing deck using high-quality materials and expert craftsmanship. Our team of skilled professionals has years of experience in deck design, material selection, site preparation, installation techniques, and structural support. We take pride in our attention to detail and commitment to delivering exceptional results that meet our clients' needs and exceed their expectations.
When it comes to deck construction, we follow a proven process that ensures the highest level of quality and durability. Here are some key steps we take to build a strong and beautiful deck:
1. Framing: We use pressure-treated lumber, composite or other materials for the framing structure to provide maximum support for the deck surface.
2. Decking: We offer various decking options such as cedar, vinyl, or composite which provide long-lasting protection against weather elements.
3. Railing system: We install sturdy railing systems that not only enhance the appearance but also ensure safety.
4. Finishing touches: Once the construction is complete, we add finishing touches such as sanding down any rough spots or adding features like lighting fixtures or built-in seating areas for optimal comfort.
Our goal is to deliver a seamless experience from start to finish while providing expert guidance throughout every step of the process.
Deck Repair
Don't let a damaged or worn-out deck ruin your outdoor experience. Let us help you restore and revitalize your outdoor space with our trusty repair services.
We specialize in providing solutions for common issues such as deck board replacement, railing repair, waterproofing solutions, rot damage solutions, and wood sealing techniques. Our crew will assess the extent of the damage and provide you with a detailed plan on how to proceed with repairs.
Whether it's replacing a few rotten boards or repairing an entire section of railing, we have the skills and expertise to get the job done right. We use only top-quality materials to ensure that your repaired deck not only looks great but also stands up to harsh weather conditions. Our wood sealing techniques protect against moisture damage and keep your deck looking new for years to come.
Deck Refinishing
Get ready to enjoy your outdoor space even more with our expert deck refinishing services! We understand that maintaining your deck can be a daunting task. That's why we offer comprehensive deck maintenance services, including refinishing and staining tips, wood preservation techniques, and weather protection solutions.
We work with you to determine the best color options for your deck. We use high-quality stains that not only enhance the natural beauty of your wood but also protect it from harsh weather conditions.
Our refinishing process involves a thorough cleaning, sanding, and application of protective coatings to ensure that your deck looks great and lasts for years to come. Trust us to keep your deck in top condition so you can relax and enjoy the freedom of outdoor living.
Deck Remodeling
As experienced deck builders in Aloha, we understand that sometimes clients want to completely revamp their outdoor living space. This could involve tearing down the existing deck and starting from scratch or making significant changes to the layout and design.
When it comes to deck remodeling, our team takes a collaborative approach with our clients. We take the time to listen to their ideas and vision for their dream deck.
From there, we provide expert advice on everything from material selection to cost analysis. Our goal is always customer satisfaction, which is why we prioritize communication throughout every step of the process.
Here are three specific ways we can help bring creative ideas to life:
1. Deck Design: Our team has experience designing decks of all shapes and sizes – from simple single-level designs to complex multi-tiered structures. We'll work with you to create a custom design that meets your unique needs and preferences.
2. Material Selection: Choosing the right materials is crucial for ensuring your new deck will be both functional and beautiful for years to come. We'll walk you through different options like wood types, composite decking, railing systems, lighting features, and more.
3. Cost Analysis: Remodeling costs can quickly add up if not properly planned out ahead of time. We provide detailed cost analyses so that you can make informed decisions about your budget while still achieving your desired results. We work with you to create a realistic budget and ensure that all expenses are accounted for, including materials, labor, and any unforeseen expenses that may arise.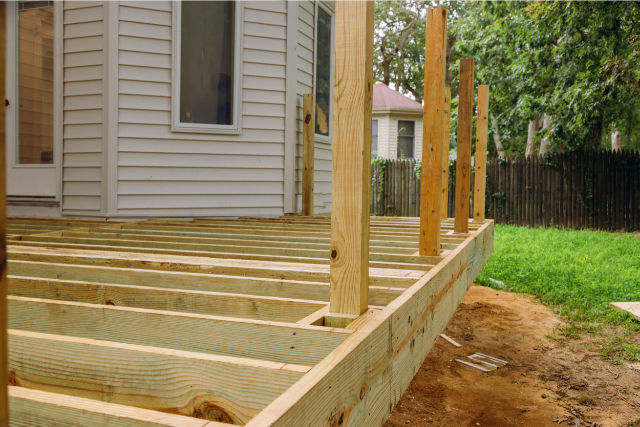 Our Deck Building Process
From the initial consultation to the finishing touches, our deck builders in Aloha, Oregon follow a comprehensive process that ensures your outdoor space is both beautiful and functional.
We begin with a detailed deck design, taking into account your preferences, budget, and specific requirements. We then move on to material selection, helping you choose the right type of wood or composite decking based on durability and aesthetics.
Site preparation is the next step in our process. We clear the area of any debris or vegetation and level the ground as needed. We also ensure proper drainage to prevent water damage to your deck structure.
Once the prep is complete, we use advanced installation techniques to construct a sturdy deck framework using support beams and joists. After installing secure railings and stairs according to your specifications, we add finishing touches such as staining or protective coatings for long-lasting beauty.
Throughout every step of our process, we prioritize safety and compliance with local building codes.
Why hire Aloha's Expert Deck Builders?
If you want to ensure a beautiful and safe outdoor space, you should consider hiring expert deck builders. The benefits of working with experienced professionals are numerous.
First and foremost, you'll have access to their expertise in custom designs, material selection, and construction techniques that will ensure your deck meets your needs and preferences. We can also help you save money by recommending cost-effective materials that fit within your budget without sacrificing quality work.
We bring years of experience to the table when it comes to constructing decks that stand the test of time. You can rest assured that they'll use robust support structures, sturdy railings, and durable materials to create a well-built structure that enhances the aesthetic appeal of your property.
Finally, our professional maintenance services will keep your deck looking great for years to come while ensuring all safety codes are met.
About Aloha, Oregon
As deck builders in the Aloha area, we're proud to serve the residents of Aloha and help them enhance their outdoor living spaces.
With a population of over 55,000 people, Aloha is one of the largest unincorporated communities in the United States. Originally settled by pioneers in the mid-1800s, Aloha has grown into a thriving suburb of Portland that offers easy access to urban amenities as well as scenic natural areas.
Aloha also boasts numerous attractions and local events that make it an exciting place to live or visit. From hiking trails and parks and the Aloha Swim Center to shopping centers and restaurants, there's something for everyone in this dynamic community. Whether you're looking for a quiet residential neighborhood or a bustling commercial district, Aloha has plenty of options to choose from.
We enjoy working with clients throughout Aloha to design and build decks that reflect their unique style and meet their specific needs.
Frequently Asked Questions
What is the average cost of hiring a deck builder in Aloha, Oregon?
The cost breakdown depends on various factors such as materials used, design options and payment options. The average pricing can range from $15-$35 per square foot.
How long does it typically take to build a deck from start to finish?
Construction timelines vary based on planning considerations like material and design options, as well as budgeting tips. From start to finish, a deck can take anywhere from a few days to several weeks depending on the project's complexity and size.
Can you provide references or examples of their previous work?
Just like a chef showcases their culinary skills with a dish, deck builders exhibit their craftsmanship through client testimonials, portfolio examples, and word of mouth recommendations. We prioritize project customization while adhering to industry standards for quality assurance.
What kind of warranty or guarantee do you offer?
We offer comprehensive warranty coverage and a workmanship guarantee to ensure customer satisfaction. Our repair policy ensures timely repairs for any issues that may arise. We also carry liability insurance for added protection.
What maintenance or upkeep is required for a newly built deck?
Regular cleaning is crucial for weather resistance and wood preservation. Stain protection is recommended for added durability. Structural inspection should be done annually to ensure safety and longevity.