Deck Builders Hillsboro, Oregon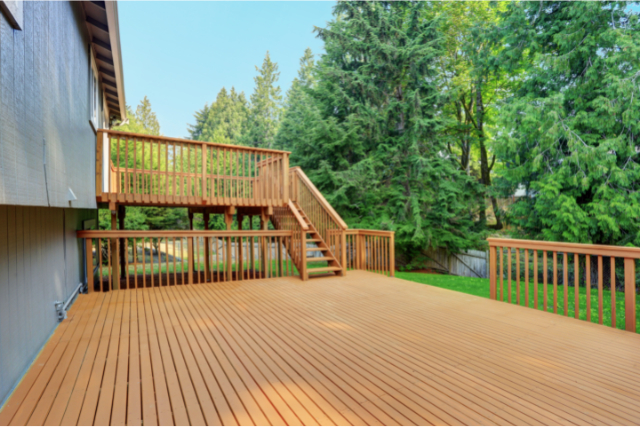 When it comes to enhancing the aesthetics and functionality of outdoor living spaces, nothing quite compares to a well-designed and expertly crafted deck. And that's where we come in – as deck builders in Hillsboro, Oregon, we offer a range of services that can help transform your backyard into an oasis of relaxation and entertainment.
At Expert Deck Finishing, we pride ourselves on being skilled professionals who understand the importance of creating high-quality decks that meet the unique needs and preferences of our clients. We work closely with homeowners and businesses alike to design, plan, construct, install, maintain, and repair decks that add value and beauty to their properties.
Our team consists of experienced designers and builders who are dedicated to providing exceptional service and craftsmanship at every stage of the process. So if you're looking for a reliable deck builder in Hillsboro, OR – look no further than Expert Deck Finishing!
Contact us today for a free estimate!
Services
Our local company offers a wide range of deck-related services to meet all your needs.
Whether you're looking to construct a brand-new deck, repair an existing one, refinish the surface, or remodel the entire structure, we've got you covered.
Our team of skilled professionals has years of experience in deck construction and maintenance.
Deck Construction
Deck construction is an art form that requires careful planning and execution. At our company, we take pride in designing decks that not only look great but also provide functionality for our clients.
Our design process involves meeting with clients to understand their needs and preferences, as well as offering expert advice on material options and cost considerations. Once we have a solid plan in place, we begin the construction process using top-of-the-line materials and construction techniques.
We ensure that the support beams and joists are sturdy enough to withstand weight-bearing loads while also providing proper drainage to prevent water damage. Our team pays close attention to detail when installing the deck boards, railings, stairs, and any other structural elements.
And once the structure is complete, we add finishing touches like staining or protective coatings to enhance its appearance and longevity. With our focus on quality craftsmanship and attention to detail, you can rest assured that your new deck will be a source of enjoyment for years to come while requiring minimal maintenance.
Deck Repair
You'll be relieved to know that repairing your outdoor space can be a hassle-free process with our company. Our team of pros in Hillsboro, Oregon has years of experience in handling various types of deck repairs.
We understand the importance of having a safe and functional deck, and we take pride in delivering quality workmanship to our clients. Our repair services include a thorough inspection of your existing deck to identify any issues that need attention.
From there, we provide a detailed cost estimation for the necessary repairs, so you can make an informed decision on how to proceed. Our skilled technicians can replace worn-out boards and apply stain or protective coatings to restore the appearance and durability of your deck.
We also prioritize safety measures during every step of the repair process, ensuring that your deck is structurally sound and stable for use.
Deck Refinishing
Maintenance is crucial to ensure that your deck remains in top shape for years to come. Over time, natural elements like rain, sun exposure, and foot traffic can cause wear and tear on the surface.
One way to protect your deck from weather damage is by staining it regularly. Staining not only gives your deck a fresh look but also adds a layer of protection against moisture, UV rays, and rotting.
When choosing a stain for your refinishing project, it's essential to consider factors like the type of wood used in construction and the climate conditions in your area. Our team can provide expert advice on choosing the right finish for your specific needs or offer DIY refinishing tips if you prefer to tackle the project yourself.
Deck Remodeling
If you're ready to transform your outdoor living space, let us help with your deck remodeling project! We can work with you to create a custom design that fits your style, needs, and budget.
We offer a range of material options for decking, including pressure-treated lumber, cedar, composite decking, and more. During the consultation process, we'll provide a cost analysis to help you make an informed decision about which materials are right for your project.
We also assist with color selection and layout planning. We understand that every homeowner has unique preferences and priorities when it comes to their outdoor living space.
Whether you're looking for a cozy spot for family dinners or an expansive entertaining area for hosting guests, we can help build the perfect layout for your needs. Our attention to detail and expert craftsmanship ensure that every aspect of your deck remodeling project is executed flawlessly.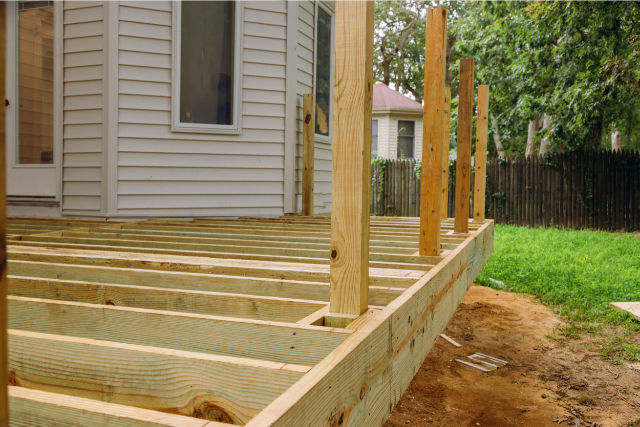 Our Deck Building Process
Our deck-building process involves a thorough consultation and design phase, where we work closely with our clients to understand your vision for the perfect deck. We offer expert advice on materials, layout, and features that will enhance both the aesthetics and functionality of the final product.
Once we have a detailed plan in place, we move on to material selection. We help our clients choose the appropriate wood or composite type, fasteners, railings, and any additional features like stairs or built-in seating.
Next comes site preparation. We clear the area of any obstacles or debris and ensure proper drainage to prevent water damage. We level the ground as needed and prepare it for construction.
From there, it's time for construction and installation using sturdy support beams and joists. We measure each board carefully before cutting it to size and securely attaching it to the frame. Our attention to detail extends beyond just construction – finishing touches like sanding the surface area or adding lighting fixtures are also included in our process.
Finally, safety compliance is crucial. We make sure each deck is structurally sound by securing railings properly while ensuring they are aesthetically pleasing at the same time. Our maintenance services cover everything from routine inspections to repairs as well as refinishing surfaces when necessary.
Why hire our Hillsboro Expert Deck Builders?
Hiring our experienced builders can ensure that your outdoor space is not only functional and visually appealing but also safe and compliant with local building codes.
We have years of experience in designing and constructing custom decks for residential and commercial properties in Hillsboro, Oregon. We understand the importance of quality workmanship and attention to detail when it comes to building a deck that meets your specific needs and preferences.
One of the benefits of working with our team is that you can be assured of high-quality results. We use only the best materials and construction techniques to ensure that your deck will stand up to years of use and weathering.
On top of that, our team has extensive knowledge of local building codes, safety requirements, and industry standards. This means that we can design a safe, sturdy deck that will not only look great but also provide peace of mind for you and your family or customers.
Plus, by working with us on your project, you may even find cost-effectiveness as an added bonus since we have established relationships with suppliers allowing us access to special pricing options which we pass on to our clients without sacrificing quality or customization options.
About Hillsboro, Oregon
Hillsboro is a terrific city in the heart of Washington County, surrounded by rolling hills and picturesque vineyards. It is a beautiful place that offers something for everyone.
Whether you're looking for outdoor adventures or cultural experiences, this city has it all. Here are some of the top attractions that Hillsboro has to offer:
Take a stroll through downtown Hillsboro and explore its historic landmarks.

Enjoy delicious local cuisine at one of the many restaurants and food trucks in the area.

Participate in community events like farmers' markets, festivals, and concerts.

Take in a ballgame at Ron Tonkin Field

Get outside and enjoy hiking, biking, or kayaking in the surrounding parks and natural areas.
Frequently Asked Questions
What is the average cost of a deck installation in Hillsboro, Oregon?
The cost varies based on materials needed, labor fees, and budget planning. Pricing comparisons between different contractors can help determine the most affordable option for your project. We provide knowledgeable advice and detail-oriented service to ensure your deck is both functional and aesthetically pleasing.
How long does it typically take to complete a deck-building project?
Our construction timeline for a project depends on various factors, such as the materials needed, weather considerations, and project management. Clear communication with clients ensures timely completion while providing quality workmanship that meets their expectations.
Can you customize a deck design to fit specific needs or preferences?
We offer customization options for our clients' decks to fit their personal preferences and design considerations. We carefully consider material choices and structural requirements to create a one-of-a-kind structure that meets their needs while exceeding expectations.
What types of maintenance are required to keep decking in good condition?
We've learned that regular cleaning and weather protection are crucial for longevity. Repairs and replacements are inevitable, but staining and sealing can help prevent damage.
Are there any specific building codes or regulations that deck builders in Hillsboro, Oregon need to adhere to?
We adhere to building codes, obtain necessary permits, and pass inspections to ensure safety requirements are met. Legal considerations such as property lines and setback regulations must also be taken into account during the design and construction process.