Deck Builders Tigard, Oregon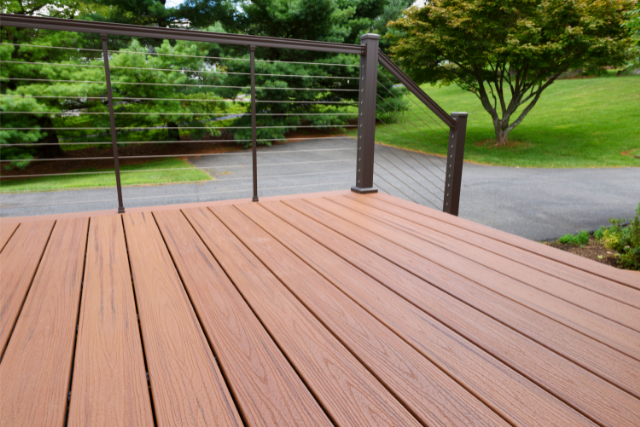 As experienced deck builders in the Tigard area, we understand the importance of creating a functional and beautiful outdoor living area that fits your unique needs and style.
From small personal spaces to large entertainment areas, we have the knowledge and expertise to turn your dreams into reality.
At Expert Deck Finishing, our team is dedicated to providing top-notch services from start to finish. We specialize in designing and constructing high-quality decks that can withstand various weather elements while adding beauty and value to your property.
We also provide deck repairs, refinishing, and remodeling if you need that, too.
With our efficient deck-building process and attention to detail, we can help you create a stunning outdoor oasis that you'll love spending time in for years to come.
So if you're ready to enhance your outdoor living experience in Tigard, Oregon, let us help bring your vision to life with our licensed and insured services. Contact us today for a free estimate and consultation.
Services
We offer a variety of services to meet all of your deck-related needs. Our team is experienced in construction, ensuring that your new deck is not only visually appealing but also structurally sound and safe for use.
We also provide repair services to address any damage or wear and tear on existing decks. Likewise, we offer refinishing to restore the appearance of older decks. If you're looking to give your deck a complete makeover, our remodeling services can transform your outdoor space into the perfect area for relaxation and entertainment.
Deck Construction
We are experts at constructing and installing decks that not only enhance the aesthetics of a property but also adhere to local building codes and regulations. We take pride in our ability to provide high-quality construction services that meet the unique needs of each client.
Here are some key aspects of our construction process:
Deck materials:

We work closely with our clients to choose the right materials for their decks based on your preferences, budget, and intended use. This includes selecting the type of wood or composite decking, fasteners, railings, stairs, and any additional features like built-in seating or lighting.
Deck design:

Our experienced designers create detailed plans and drawings to ensure that each deck is both functional and visually appealing. We take into account factors such as sun exposure, views, privacy needs, and outdoor living space requirements.
Deck layout:

We carefully consider the placement of the deck on the property to maximize its usability and complement existing landscaping or architecture.
Deck support and installation:

Our contractors construct sturdy support beams and joists to ensure that the deck can handle weight-bearing loads safely. We install all components securely according to industry standards and best practices.
We understand that every project is unique, which is why we approach each one with attention to detail that ensures a successful outcome. Whether you're looking for a simple platform deck or an elaborate multi-level structure with custom features like hot tubs or fire pits, we have the expertise needed to bring your vision to life while adhering to safety standards.
Deck Repair
Decks can suffer from wear and tear over time, which is why we offer a comprehensive deck assessment to identify any issues that may need addressing.
From there, we can provide board replacement and rot repair to ensure your deck remains sturdy and safe for use. In addition to repairing damaged boards or structures, we also offer waterproofing solutions to protect your deck from the elements.
Proper maintenance is key to extending the lifespan of your deck, so our team can also provide ongoing maintenance services as needed. When it comes to keeping your outdoor space in top shape, trust our experienced professionals for quality craftsmanship and exceptional results.
Deck Refinishing
You're tired of looking at the same old outdoor space, but little do you know that a stunning transformation awaits. If your deck is still structurally sound but has seen better days in terms of appearance, refinishing might be the perfect solution for you.
Sealing and staining can help breathe new life into your deck and give it a fresh look that complements your home's aesthetic.
While DIY refinishing may seem like an affordable option, hiring professionals ensures an even application of stain and protection against common mistakes like oversaturation or improper curing times.
Additionally, weather considerations should be considered when planning for deck refinishing since certain conditions can affect the quality of the finished product.
Deck Remodeling
We've seen many cases where homeowners want to improve the look and functionality of their existing decks. Here are some things to consider when planning a remodel:
Deck design:

A well-designed deck can make all the difference in improving your outdoor living space. We work closely with our clients to create a customized design that suits their style and needs. From multi-level decks to curved designs, we can bring your vision to life.
Material options:

There are various decking materials available on the market today, each with its pros and cons. We help our clients choose the best material for their budget and preferences, whether it's classic wood or low-maintenance composite decking.
Cost analysis:

Remodeling can be costly depending on the extent of the project. We provide our clients with a detailed cost analysis upfront so they know what to expect.
Creative features:

Adding features like built-in benches or planters can enhance both the functionality and beauty of your space. We love incorporating unique elements into our designs that add character and personality.
Once you've completed your new deck remodel, it's important to maintain it properly so that it lasts for years to come:
Regularly clean the surface using mild soap and water

Sweep away debris regularly to prevent moisture buildup

Apply a protective coating every few years depending on the material used

Address any issues promptly before they become bigger problems.
Why hire Tigard's Expert Deck Builders?
Hiring our professional deck builders can make all the difference in creating a stunning and safe outdoor space that will impress your guests and provide years of enjoyment.
We pride ourselves on providing top-notch quality workmanship to ensure your deck is both functional and beautiful. We have years of experience in designing and building and can offer you professional advice on the best materials, layout, and structural design to suit your needs.
One of the benefits of working with is is cost-effectiveness. Our team has access to high-quality materials at wholesale prices, which means we can pass those savings on to you. We also know how to plan a project efficiently so that there are no costly delays or mistakes.
Our local company strictly adheres to safety standards during construction, ensuring that your deck is structurally sound and secure. When you hire us, you can rest assured that you're getting the best value for your money while enjoying a beautiful outdoor space that will last for years to come.
About Tigard, Oregon
In the charming city of Tigard, you can discover a variety of local shops, restaurants, and parks. Located in Washington County, Oregon, it has a population of around 55,000 people and offers plenty of opportunities for outdoor recreation.
The city is home to several beautiful parks, including Cook Park and Dirksen Nature Park, where you can hike trails or have a picnic with family and friends.
Tigard also boasts an impressive selection of dining options ranging from casual eateries to fine dining establishments. Some popular spots include Café Allegro, serving Italian comfort food made from scratch; Syun Izakaya for traditional Japanese cuisine; and Fanno Creek Brew Pub for craft beer and pub fare.
If shopping is more your style, Tigard has many unique boutiques and antique shops that offer one-of-a-kind finds.
Frequently Asked Questions
How long does it typically take to construct a deck?
Constructing a deck generally takes 1-2 weeks, depending on the size, complexity, and construction materials used. The estimated timeline also includes obtaining permits and adhering to regulations. Cost considerations vary based on these factors as well.
Can you install features for hot tubs or fire pits?
Yes, we can install hot tub and fire pit options. Customizing decks to include these features requires careful budget considerations and integration with landscaping for a truly luxurious outdoor living space.
What kind of warranties or guarantees do you offer?
Our reputation is important to us, which is why we offer warranties and guarantees on our work. We strive for customer satisfaction by providing clear project cost estimates, flexible payment options, and a realistic project timeline.
How often should a deck be inspected for maintenance and repairs?
We recommend inspecting your deck at least once a year for maintenance and repairs. Weathering, foot traffic, and safety concerns can affect its condition. Regular inspections help identify issues early on and ensure your structure remains safe and functional.
What factors should be considered when choosing between different types of decking materials?
Durability, cost-effectiveness, maintenance requirements, aesthetics, and environmental impact are all important factors to consider. We recommend doing your research and weighing the pros and cons before making a decision. Composite, treated lumber and vinyl are top options.