Deck Builders Lake Oswego, Oregon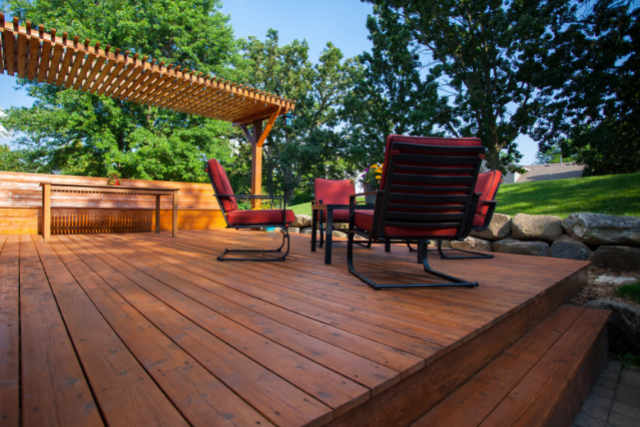 Are you looking to enhance your property's outdoor living space in Lake Oswego, Oregon? Well, have no fear because Expert Deck Builders is here!
We're a team of skilled craftsmen who specialize in creating beautiful and functional outdoor decks that cater to your specific needs and preferences.
You might be wondering what makes us stand out from the rest of the deck builders in Lake Oswego. Our secret sauce lies in our commitment to delivering exceptional services that are safe, structurally sound, and compliant with local building codes and regulations.
From consultation and design to material selection, site preparation, construction, and finishing touches – we've got it all covered. But don't just take our word for it; let us walk you through our deck-building process so you can see for yourself why we're the go-to builders in town.
Get in touch with us today for a free estimate and consultation!
Services
At Expert Deck Builders, we offer a variety of services to meet all your deck-related needs.
Our skilled professionals specialize in deck construction, ensuring that each project is designed and built to enhance the aesthetics and functionality of your property.
We also provide expert repair services to maintain the safety and structural integrity of your existing decks.
Additionally, we offer refinishing and remodeling services to give your deck a fresh new look or upgrade its features according to your preferences.
Let us help you create the perfect outdoor space for relaxation and entertainment!
Deck Construction
You're not just building a deck, you're creating an outdoor oasis that will be the envy of your neighborhood. Our team of construction contractors in Lake Oswego, OR understands the importance of delivering a high-quality product that meets your unique needs and lifestyle.
From the initial consultation to the finishing touches, we take pride in every step of the process. When it comes to deck installation, our team utilizes expert installation techniques to ensure both durability and aesthetics.
We carefully consider factors such as decking material selection based on weather considerations and zoning regulations. Our attention to detail is evident in every aspect of deck design, from framing to railing systems.
Trust us to create the perfect space for entertaining guests or simply relaxing with family and friends.
Deck Repair
If you've been frustrated with the state of your outdoor oasis lately, it's time to let our team of experts come in and handle your repair needs.
We start by conducting a thorough inspection to identify any underlying structural issues that may be compromising the safety and longevity of your deck. Our team will then offer effective solutions that address your unique needs, including board replacement, structural reinforcement, and waterproofing solutions.
We understand that maintaining a beautiful and functional deck can be time-consuming and overwhelming. That's why we also offer comprehensive maintenance services to keep your outdoor living space looking its best year-round.
Whether you need regular cleaning, staining, or sealing work done, we have the tools and expertise needed to get the job done right.
Deck Refinishing
It's time to revive your outdoor retreat and make it shine like a diamond with our deck refinishing services! Our team will bring new life to your tired old deck.
We understand that decks are exposed to harsh weather conditions, which can cause them to look worn out and fade over time. Our expert deck professionals provide exceptional refinishing services that include the following:
1. Deck Staining: Our team uses high-quality stains that not only add color to your deck but also protect it from weather damage. We have a variety of color options for you to choose from, so you can pick one that complements the overall design of your property.
2. Weather Protection: We use advanced techniques and materials to protect your deck from extreme weather conditions like rain, snow, and UV rays. By doing so, we ensure that your newly refinished structure lasts longer.
3. Maintenance Tips: After refinishing your deck, our team provides valuable maintenance tips so that you can keep it looking great for years to come. These tips include regular cleaning and inspection of the surface.
4. Refinishing Techniques: Our experts use various techniques like sanding and power washing to remove dirt and grime before applying the stain or protective coating. This helps ensure that the finish is smooth and long-lasting.
Deck Remodeling
Ready to transform your outdoor space? Our team can help you achieve the deck of your dreams with our expert remodeling services. Whether you want to add custom features or update the layout, we have the skills and experience to make it happen.
Our first step in deck remodeling is consultation and design. We work closely with our clients to understand their vision and preferences. From there, we offer recommendations on material selection based on cost estimation and durability.
Once materials are chosen, we create a detailed plan for a deck design that incorporates any custom features desired by the client. Finally, we ensure that the new layout fits seamlessly into the existing landscape for maximum aesthetic appeal.
With our expert craftsmanship and attention to detail, you can trust us to deliver a beautiful finished product that will enhance your outdoor living space for years to come.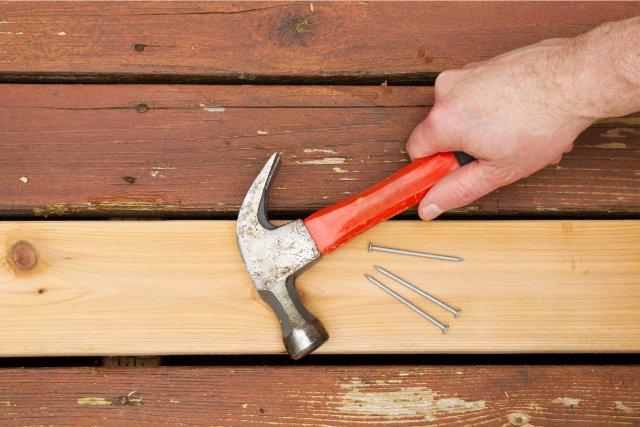 Our Deck Building Process
Let's take a look at how our deck builders in Lake Oswego, Oregon approach the process. Our team of contractors follows a detailed and comprehensive process to ensure that every deck we build is of the highest quality and meets our clients' needs and preferences.
Here are the steps we take:
Deck Design: We begin by consulting with our clients to understand their vision for their outdoor space. We offer expert advice on design, materials, and layout to create a plan that meets their specific requirements.
Material Selection: Based on your needs and budget, we help choose the appropriate materials for the project. This includes wood, composite, vinyl, and others. We consider factors such as durability, maintenance requirements, and aesthetics when selecting decking materials.
Site Preparation: Before construction begins, we prepare the site by clearing any obstacles or debris. We ensure proper drainage to prevent water damage to the structure and level the ground if necessary.
Construction Process: Our experienced builders construct the deck framework using sturdy support beams and joists. They measure and cut each board precisely before installing them securely onto the frame.
Once these steps are complete, we add finishing touches such as sanding, staining, or painting surfaces as needed based on your preference.
Why hire Expert Lake Oswego Deck Builders?
Hiring professional deck builders ensures that your outdoor space is designed, constructed, and finished with the highest quality materials and craftsmanship.
The benefits of hiring our crew extend beyond just a beautiful finished product. We have the necessary skills and knowledge to ensure that your project is completed efficiently and effectively, saving you time and money in the long run.
Quality workmanship is essential when it comes to building a sturdy and safe outdoor structure. We use premium quality materials, tools, and equipment to ensure that your deck can withstand harsh weather conditions for years to come.
We also implement safety measures during construction to prevent accidents or injuries on your property. Hiring our experienced team of deck builders not only guarantees a quality finished product but also provides cost-effectiveness by avoiding future repairs or maintenance costs due to subpar workmanship.
About Lake Oswego, Oregon
Let's take a closer look at Lake Oswego, Oregon. This beautiful city is located just south of Portland and is known for its picturesque neighborhoods and stunning views of Mount Hood. With its proximity to the Willamette River and numerous parks, Lake Oswego is an ideal place for outdoor living.
It's no wonder why so many homeowners in this area are interested in building custom decks to enhance their outdoor spaces. If you're considering adding a deck to your Lake Oswego home, there are several factors to consider.
You'll want to make sure your deck meets local building codes and regulations. You'll also want to choose materials that can withstand the region's varying weather conditions. Finally, you'll want to work with a reputable deck builder who has experience working in the area and can help bring your vision to life. That's us!
Frequently Asked Questions
What is the average cost of a deck building project in Lake Oswego, Oregon?
Factors such as materials selection, design options, contractor selection and budget planning all impact the final cost. On average, costs can range from $10,000 to $25,000 or more depending on size and customization.
Can you customize the design of my deck to match my existing home's architecture?
We offer tailored craftsmanship to ensure architectural harmony and matching aesthetics. Let us bring your vision to life. Plus, who doesn't love a one-of-a-kind outdoor space?
How long does it typically take to complete a deck-building project?
Our deck-building timeline depends on factors like material choices, weather considerations, and deck layout options. We can offer cost-saving tips while ensuring a quality finished product. As experts, we know how to efficiently complete your project.
Are there any special permits or licenses required for deck building in Lake Oswego, OR?
Before starting a deck-building project in Lake Oswego, it's important to know the permit requirements and licensing process. Building codes, zoning regulations, and inspection procedures must be followed to ensure compliance with local laws.
What types of maintenance and repairs should I expect for my deck and how often should they be performed?
We suggest annual professional cleaning and inspection. We also recommend weather protection through staining or sealing every few years to prevent damage. In case of repairs needed, contact us for professional services.