Deck Builders Gresham, Oregon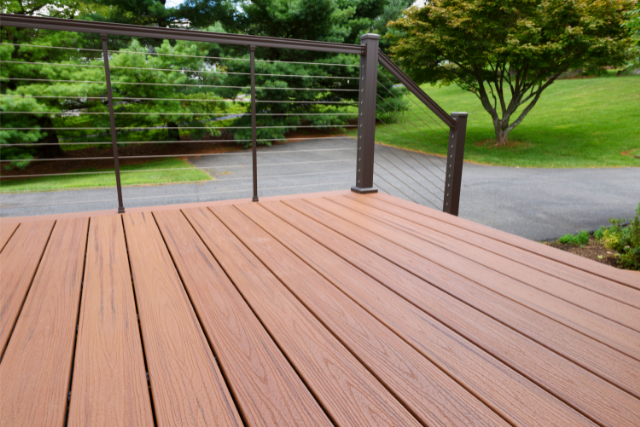 Our deck builders in Gresham, Oregon are the crème de la crème of outdoor construction professionals. They have a knack for turning an ordinary backyard into a stunning outdoor living space that is both beautiful and functional. 
If you want to add value to your home and create an oasis where you can unwind after a long day or entertain guests, then look no further than our proven local company.
At Expert Deck Finishing, we pride ourselves on being one of the top deck contractors in Gresham, Oregon. Our team of skilled professionals has years of experience designing and building custom decks that are tailored to our your needs and preferences. We use only high-quality materials and cutting-edge techniques to ensure that every project we undertake exceeds our clients' expectations.
So whether you want a simple platform deck or an elaborate multi-level structure with built-in seating and lighting, we've got you covered. Trust us; there's nothing quite like spending time on a well-built deck surrounded by nature's beauty—it's like having your own private retreat right at home!
Give us a call today for a free quote and consultation!
Our Decking Services
We offer a wide range of services to meet all your deck needs. We specialize in construction, ensuring that your new deck is sturdy and built with the right materials.
Our team also provides repairs for any damage to your existing deck, as well as refinishing services to keep it looking like new.
Lastly, if you want to give your deck a complete makeover, we offer remodeling services to transform it into an outdoor oasis that you'll love spending time on.
Deck Construction
Professional construction and installation of outdoor decks can increase a property's value by up to 76%. Our team of skilled professionals specializes in design, material selection, site preparation, construction techniques, and safety considerations. We work closely with clients to understand their needs and preferences for the perfect deck addition to their property.
After consulting with you on design, we begin site preparation by clearing any obstacles or debris from the area. We ensure proper drainage to prevent water damage and level the ground for optimal support. Using our expertise in construction techniques, we construct a sturdy framework using support beams and joists before securing the decking boards onto it.
Finally, we add finishing touches such as sanding, staining, or protective coatings application while also ensuring safety compliance through appropriate fasteners and weight-bearing support structures. With our extensive knowledge of deck-building methods combined with attention to detail towards client preferences and safety concerns, we guarantee a high-quality finished product that is both functional and aesthetically pleasing.
Deck Repair
You can easily maintain the longevity of your outdoor deck by scheduling repair services with our team. Our pros are equipped to handle any type of repair work, from minor cosmetic fixes to major structural reinforcement.
Here are some of the services we offer:
Deck inspection:

We'll thoroughly inspect your deck for any signs of damage or wear and tear. This includes checking for loose boards, rotting wood, and rusted fasteners.

Board replacement:

If we find any damaged or worn-out boards during the inspection, we'll replace them with high-quality materials that match your existing deck.

Waterproofing solutions:

To prevent water damage and extend the life of your deck, we offer a range of waterproofing options such as sealants and coatings.

Structural reinforcement:

If your deck is showing signs of weakness or instability, we can reinforce it with additional support beams or joists.
We also provide maintenance to help you keep your deck in top condition. Regular cleaning and sealing can go a long way in preventing damage and prolonging the life of your outdoor structure.
Deck Refinishing
Reviving the look of your backyard space is easy with our team's refinishing services. We understand that a well-maintained and beautiful deck can enhance the overall appeal of your property.
We use top-quality products and techniques to ensure a long-lasting finish. Our refinishing process involves several steps, starting with power washing to remove dirt, grime, and old finishes. We carefully select the appropriate deck stain based on your preferences and apply it evenly using professional-grade tools.
To achieve a smooth and uniform surface, we also provide sanding that is tailored to your specific type of wood. Finally, we offer sealant options that protect against moisture damage, sun exposure, and foot traffic.
With our wide range of color choices available, you're sure to find one that meets your needs and complements your home's exterior design.
Deck Remodeling
Sometimes it's not enough to just refinish an old deck. Sometimes a complete overhaul is needed to truly transform your exterior space.
Deck remodeling starts with a fresh design plan that takes into account your unique needs and preferences. We work closely with our clients to create custom designs that fit their lifestyles and budget. This includes helping them choose from a variety of material options such as pressure-treated lumber, cedar, or composite decking.
We also guide them through budget planning and color choices so they can stay within their means while still creating a beautiful and functional space. Finally, we offer outdoor lighting options to help illuminate the space for added safety and ambiance.
With our expertise in deck renovation, we can turn any outdated or damaged deck into a stunning outside oasis for you and your family to enjoy for years to come.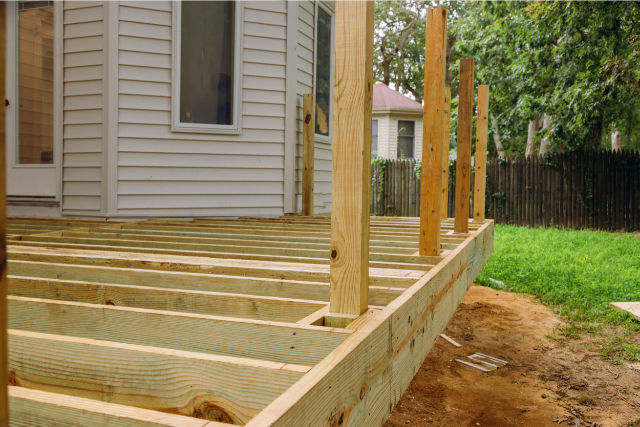 Our Deck Building Process
We start with a consultation to understand your needs and preferences for your deck. Our design consultation process involves listening carefully to your ideas and offering expert advice on the best materials, layout, and features.
We'll create detailed plans and drawings that visualize the final product so you can see exactly what your new deck will look like.
Once we have a clear understanding of your vision for the project, we'll move on to material selection. We work closely with our clients to choose the appropriate materials that fit their budgets and requirements. From pressure-treated lumber to composite decking, we offer a wide variety of options to ensure that you get the perfect combination of durability, aesthetics, and affordability.
All of our construction adheres to local building codes and regulations to ensure safety compliance at every stage of the process.
Why hire our Gresham Expert Deck Builders?
If you want to ensure that your outdoor space is the envy of the neighborhood, you should definitely consider hiring construction contractors who will go above and beyond to create a stunning and functional deck tailored to your unique needs and preferences.
Here are some benefits of working with our Gresham team:
Experience:

We have years of experience designing and building decks for various clients with different requirements. We've encountered numerous challenges and know how to overcome them efficiently.

Quality Work:

We use high-quality materials and proven construction techniques that ensure the longevity and durability of your deck. We pay attention to every detail, ensuring that every aspect of your project is completed flawlessly.

Cost Effective:

Hiring our crew can save you money in the long run by avoiding costly mistakes or repairs down the road.
We specialize in custom designs that meet your specific needs while staying within your budget. We guarantee that you'll be satisfied with our quality workmanship from start to finish. Don't settle for a bland or poorly constructed deck – invest in an outdoor space that will enhance the beauty and functionality of your property for years to come!
About Gresham, Oregon
Located just outside of Portland, Gresham has a small-town feel and plenty of outdoor recreational opportunities. The city boasts numerous parks and trails that offer biking, hiking, and walking paths for people of all ages.
One such park is the Gresham Pioneer Cemetery Park, which offers visitors a chance to learn about local history while enjoying the beautiful outdoors. In addition to outdoor activities, there are many local attractions in Gresham that cater to different interests.
For those interested in art and culture, the Arts Plaza hosts various events throughout the year. There are also community events like the annual Gresham Farmers' Market where locals can buy fresh produce and artisanal goods from vendors. Dining options are plentiful in Gresham with restaurants offering everything from classic American fare to international cuisine.
Frequently Asked Questions
How much does it typically cost to build a deck in Gresham, Oregon?
Costs can vary depending on material options and budget planning. We provide accurate estimates upfront, so you know exactly what you're paying for. 
What types of permits are required for deck construction in Gresham?
Homeowners must first obtain the necessary permit requirements and comply with zoning regulations. The inspection process ensures safety and adherence to environmental impact and homeowner association rules.
Are there any specific building codes or regulations that deck builders in Gresham need to follow?
Building regulations, safety standards, and zoning requirements must be followed by deck builders in Gresham. The inspection process ensures compliance with these rules, while environmental considerations like drainage and erosion control are also important.
How long does it typically take to build a deck from start to finish?
Our construction timeline typically ranges from 1-4 weeks depending on the project's complexity. Material options and weather considerations impact the timeline, while design flexibility allows for customization.
Can you customize designs to fit unique or challenging properties?
Yes, we offer custom design options to fit unique or challenging properties. We work within property constraints and provide creative solutions while maintaining material flexibility to incorporate any desired unique features.